Joosua's goal: To become a designer at Mercedes-Benz.
At his desk, Joosua Kuusela takes out a blank sheet of white paper. His agile fingers guide the pencil with practiced ease. Numerous drafts on the walls of his room give a hint of just what the young man is about to create on paper: gradually the individual lines merge to create his own personal vision of a Mercedes-Benz Citan. Joosua Kuusela is 17 years old. Since he was six years old, the young blond man has been drawing vehicles – especially those with the star. The design prodigy has already made a name for himself at Mercedes-Benz when Joosua won the "Mercedes-Benz Commercial Vehicle Design Challenge" in 2015. Kai Siebert, the head of Daimler's "Design Brands & Operations" department, invited the young Finn to Sindelfingen in Germany. The Scandinavian "design prodigy" described what motivates, fascinates and inspires him – what his home in Inkoo in Finland looks like.
I have sketched for as long as I remember, but I heard about the job of a car designer for the first time when I was six years old. At first I felt that this might be too ambitious but when I turned nine years old I realized I could achieve this too. Step by step, I was getting better and becoming a transportation designer became my greatest dream.
Inspiration comes from anywhere and at anytime.
MYVAN: What's your creative process like?
When I'm working on a vehicle design project, I feel that it is the most important thing of all. It's important to sketch, sketch and sketch. After a long drafting and idea creation process, I make the final renderings on paper or by using Photoshop. I'm a perfectionist.
MYVAN: But how do you approach a new project?
Especially in the beginning, it's important to generate a lot of ideas about the concept and see the world outside. To get inspiration to new design and listen to people: what would they like to see?
MYVAN: And what do they want to see?
At the moment, I'm trying to develop my design look in a more eco-friendly direction without losing any part of the Mercedes genes. That's the type of design that many people would like to see now and in the future.
MYVAN: What are your main sources of inspiration?
Inspiration comes from anywhere, anytime. For example, I visit art galleries. Architecture inspires me with timeless forms, modern luxury and the future of our visual world. Searching for information about new materials is also important. The design must follow the new technology. Music can also be an inspiration, too.
It's all about a visual harmony – with emotions.
MYVAN: How do music and design fit together?
Music is a great inspiration, even if its style is changing continuously. Sometimes a new album cover provides a perfect glimpse of new trends. It also creates emotions through the current trends. In my opinion Mercedes-Benz design is all about creating a perfect visual harmony – with emotions.
MYVAN: Do you have a creative person that you admire?
I really admire the work of Gorden Wagener as head of Mercedes-Benz Design. I'm also proud of the works of the Finnish designer and architect Alvar Aalto. One fun fact: five years ago at school we had to write the name of our own idol. My friends mostly wrote the names of professional athletes and pop stars. But I wrote down the name of Mr. Wagener.
MYVAN: How do your family and friends support your passion?
They encourage me with the path I have chosen but sometimes it can be a bit hard for them because I'm so focused on my design projects. My father shares this enthusiasm with me, he is an architect. Plus, I also have friends around the world who are interested in cars or creative careers. The support I get from family and friends is incredible!
MYVAN: What does your perfect day look like?
I don't have to hurry. I have enough time to sketch, to learn German, to relax outside and spend time with the people closest to me.
Activate YouTube content
Yes, I would like to view content from YouTube. Read our privacy policy and cookie guidelines for further information and decision options.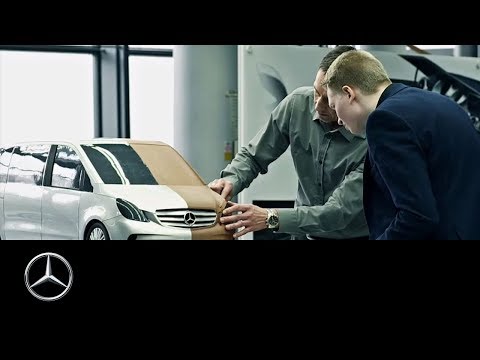 Favourite van? Vito!
MYVAN: You live in Inkoo, near Helsinki. Imagine that Gorden Wagener visited you for a day: Where would you take him to?
I would show him architecture in Helsinki. It would be great to talk more with him about design and other fascinating subjects like art and cars. I'd also like to offer him a short break. The coast would be perfect for that. Finnish nature is relaxing and inspiring all at once.
MYVAN: Imagine you could pack all of your stuff into a Mercedes-Benz van. Where would you be headed for?
Hopefully I could do that some day. I would like to see the biggest cities, the centres of the world, and the most exotic places in the middle of nothing.
MYVAN: If you could be a Mercedes-Benz van, which one you liked to be and why?
I would like to be a Vito, it's able to complete almost any task, and it's design fascinates me the most. Vito is my favourite van!
MYVAN: If you could ask your future-self one question about the future, what would you like to know?
Which Mercedes-Benz models have I been designing with the design team?