Pushing boundaries with the T1N Sprinter and exploring Canada's nature.
Levi's T1N Sprinter effortlessly handles the curves of the Fraser valley as it makes its way up the mountains. It is early in the morning and the white body of the van blends in with the clouds still trapped between the peaks. When he arrives at the film set, Levi jumps out of his Sprinter and greets the dozen athletes who will serve as his protagonists today. While Levi holds the camera in search of the best shots, the slackliners will be walking alone a slackline suspended in the air between two mountain peaks. With British Columbia's natural backdrop as powerful setting, Levi tells the story of exciting people in thirty-minute documentaries or five minute teasers. Through dedicated practice, the young filmmaker has become a powerful storyteller and produces movies exploring the limits of human nature. On his journey, his Sprinter is his home and office – the place where he spends time editing his video material – and also transports his gear. Levi bought the van about one year ago and converted it to fit his needs. He has been a full-time filmmaker ever since.
Activate YouTube content
Yes, I would like to view content from YouTube. Read our privacy policy and cookie guidelines for further information and decision options.
The audacity to pursue his childhood and lifetime dream.
When he was ten years old, Levi made his first film that was good enough to remember. It was a video about climbing in California when he was on a holiday with his parents. Filmmaking was already his hobby when he was growing up and it was hard to deny its importance. "I wanted to be a doctor so I could afford to make the films that I wanted to make," Levi told us. Soon enough he made a bold choice and decided to make films for a living. He started after high school, travelling through British Columbia on his own. "I was trying to sleep in a car … that doesn't go very well," Levi laughed, remembering his debut. One day, he had the idea to convert a T1N Sprinter into a home and office when on the road. Now, he and his wife travel in comfort with the Sprinter in a life where work and passion are closely linked.
It is great because the Sprinter meets my specific.
The T1N Sprinter conversion: from scratch to a cozy film studio and home.
The "adventure van," as Levi calls it, is a T1N high roof 170 wheelbase basis. Levi bought it second-hand and rebuilt the entire interior. It was a great playground for his creativity. Lacking in time, he started by converting the Sprinter into a basic setup: a desk where he can work on film editing, a cooking top and a large bed are the main things he needs to travel comfortably. "It is great because it meets my specific," Levi said. Not only did he design the interior, he also built it himself completely. The next conversion upgrade is planned for early 2017 – in the meantime, his first Sprinter conversion can be seen here:
Activate YouTube content
Yes, I would like to view content from YouTube. Read our privacy policy and cookie guidelines for further information and decision options.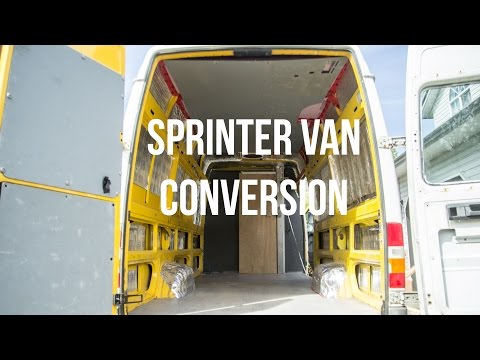 Don't waste time looking for the best camera:

"The tools you have in your pocket are already good enough to start". Most smartphones are already adequate to make great movies.

Set a timeline for completing a video:

"If you want to get better, you have to make things". The best way is to be forced to try and try again.

"Learn from the best":

People who are excellent in their craft are inevitably the best ones to learn from. Never lose an occasion to meet them and exchange.